04 février 2015
Hello everyones, I hope you are all fine. So i'm starting today my travel book, i don't really know how to begin but i promise we will travel together !
I woke up at 3.30 a.m. to go to Marignane airport. We (my mom, father, two brothers and I) took off at 6 a.m to Brussells, actually I can't tell you really about that plane because I slept all along the 2 hours of flight. One and half hour after we were into the next plane: direction Mumbai !!



In the plane going to Mumbai and Plane Food !!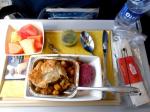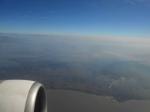 Mumbai from up !
Mumbai, Swatie can talk about that city much more than me because I have seen just a small part but there is so much to learn about Indians lifes ans indian rules. All differences are into that city, poorness and richest people, educated people or not (because mosly in India school isn't an obligation)...

We stayed one night (actually just 8 hours) to Monday then We've been in a small domestic plane to the city called Trivandrum (Kerala's capital). It's just one hour far from my home.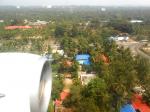 Arrived to Trivandrum !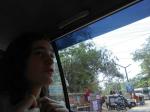 In the taxi going to home !
Going to Varkala I discover again India, it's amazing to see how much this country is able to change within two years ! But I were so happy to see it again, you can't know how much i feel good here, like a fish in wather aahaha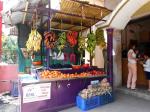 A shop where we stopped to buy bananas !
Dear sweet Home ..
Daddy, Dadda were there to welcome us ! Daddy, dadda who are they ?? It's just my grand-parents but i can promise you that no one in that classroom (not even Swatie) has grand-parents like this. You will understand better with their photos ! Surprise ! So we arrived in a very good but very hot mood. We started first to change our cloths, have a cold shower (we don't have choice), eat something and feed our keyboards. India's food, India's sounds, India's sun, India's dances, I appreciate every singles things here!
Ready for Indian summer !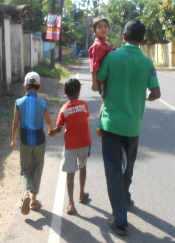 On the road of their origines ..
In reallity i lied to you, I don't appreciate everything of India, it's reputated for it's poor population and we can not close our eyes on that, Vakala is a place of tourists and where everything is done to give a good image of "India", what i want to say it's that Varkala is not ALL India, it's just the best image that the population want to give, and you know what ? It's working ! Between massage, beach, coconut milk, shows and beautiful palace the tourists forgot the true beauty of that country that is why i want so much to discover every place, to say trully "I know India" !
After 3 hours of Dance a good indian meal is absolutely what we need with a super view on the lake of the temple.
Tonight I will go on Varkala cliff, where is one of my oncle shop. (Next Monday you will have a photo don't worry) ! So I send you lot of kisses from Varkala have a nice day !