Second week
Hi everyones ! How are you ? Me, I had a great week full of activities, ready to discover ?
Starting of the week, we have seen a great show in a restaurant of the cliff. Given by my friends dancers !
Days are running here ! One week looks like one day, between shopping to eat, smalls things to take, the familly, festivals, outings, and working time. It's very difficult to have a time to break. But i like this way to live, to never be bored, having always something to do or think ! I will give you a example of one morning here : First wake up around 7:30/8:00 am then we are going to town to have a indian break fast (My favorite one is the « purri »), after direction market it's the best to buy vegetables,fruits and rice.
All the farmers are selling their production here.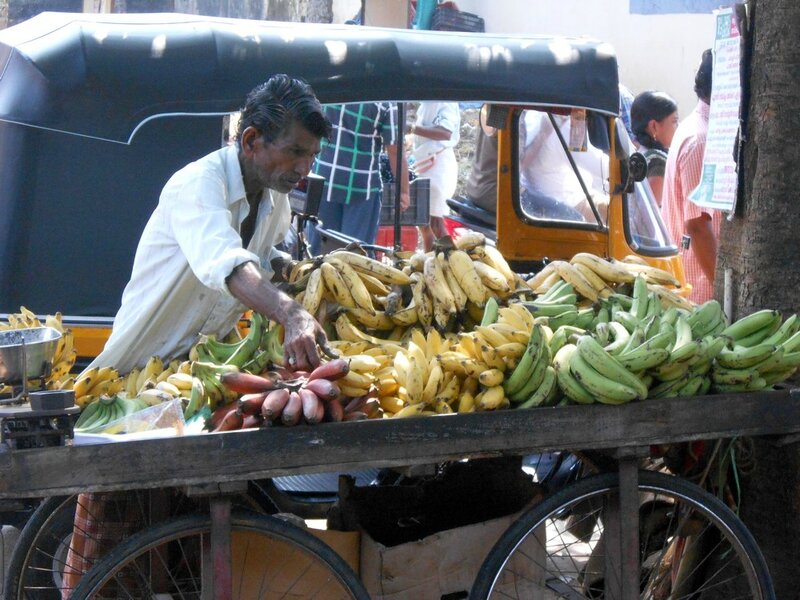 A bananas seller.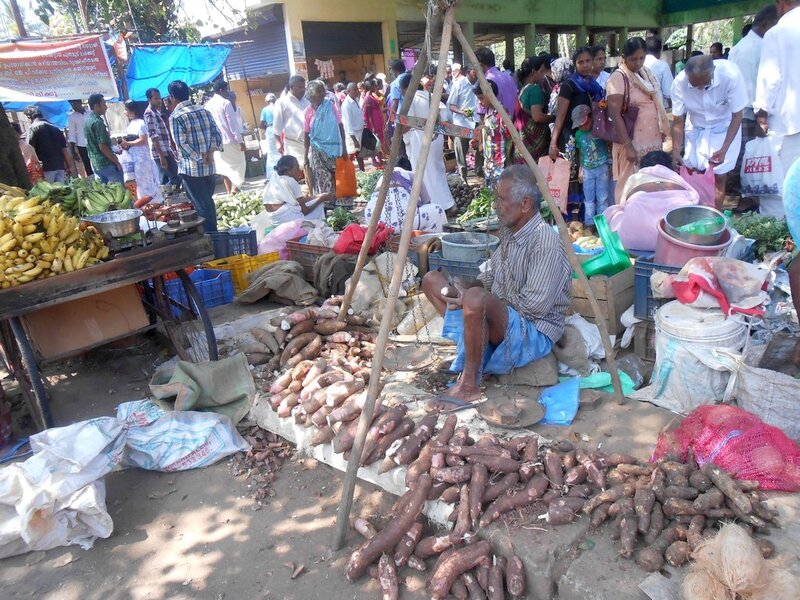 1kg of tapioka ? 70 Rupees.
Do not forget the rice !
After that beautiful market, my little brothers had to cut their hair ! Do you want to see a indian hair cutter ?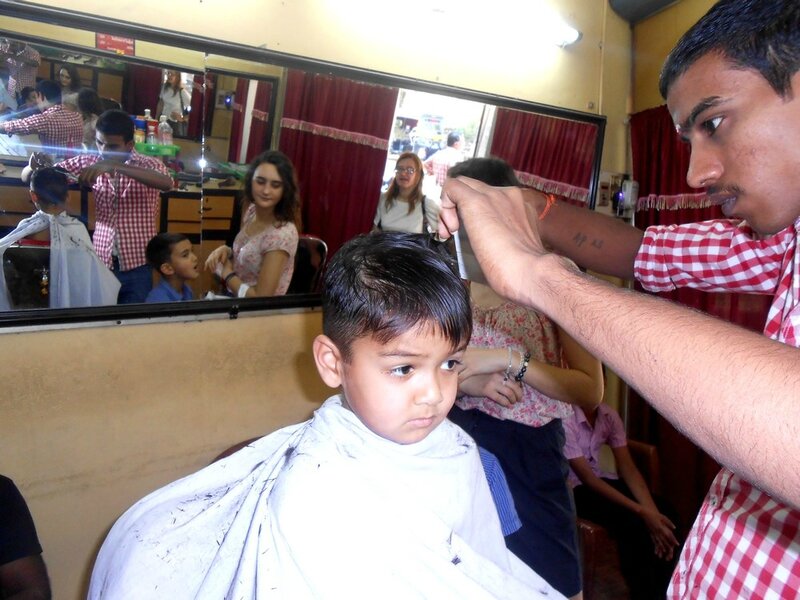 So, would you like to experience a new look ?
I wished an indian dress for dancing shows and also because I love their clothes ! There is so many colors and it's shinning, the fashion is so much different compare to France, they kept the traditionels dresses and I find it super ! The most famous dress is called the « saree », but there is also the « Lehenga », the « Petya », the « churidar » and so many others …

Not all Indians are keeping that tradition, in the north of India mostly in the big city like Mumbai, Calcuta, and New Delhi girls can wear jeans pants, or even shorts. Because there the developpement is really starting, movies starts are dressing like the new europeen fashion so little by little it's coming to touch the population of India.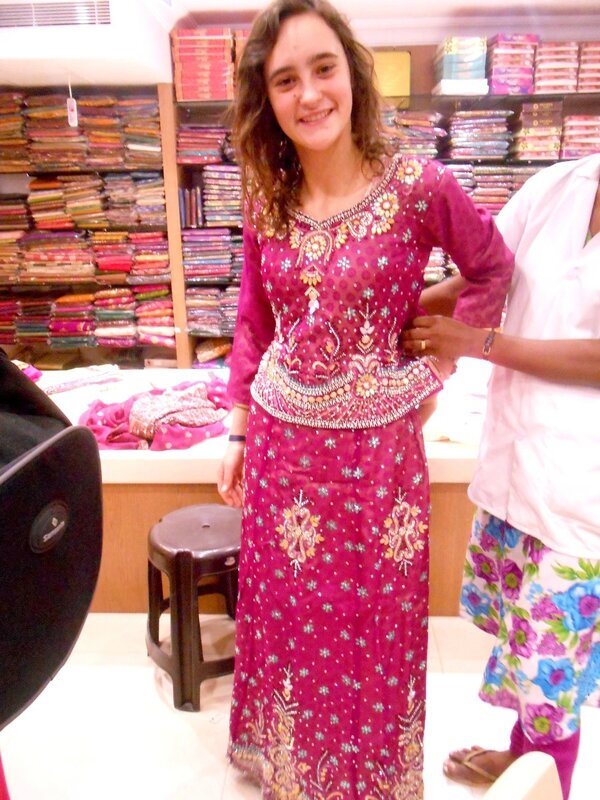 The indian touch !
We have been invited by my oldest oncle and his wife, the meal were so good ! We enjoyed a lot, and it was good to share a moment with the family that we didn't see since a long time !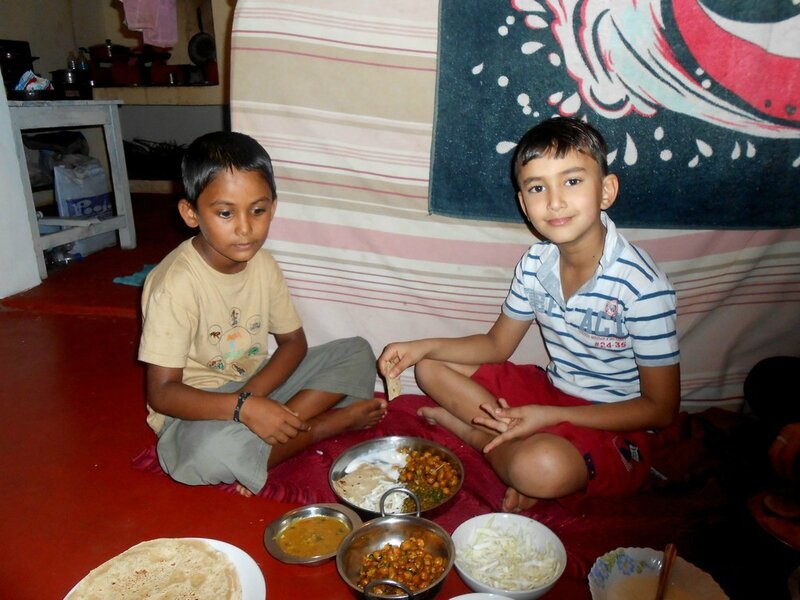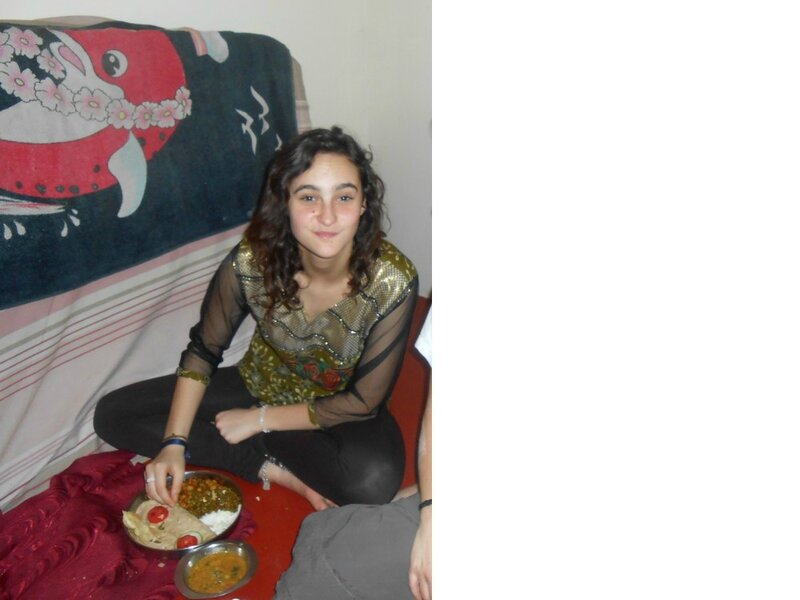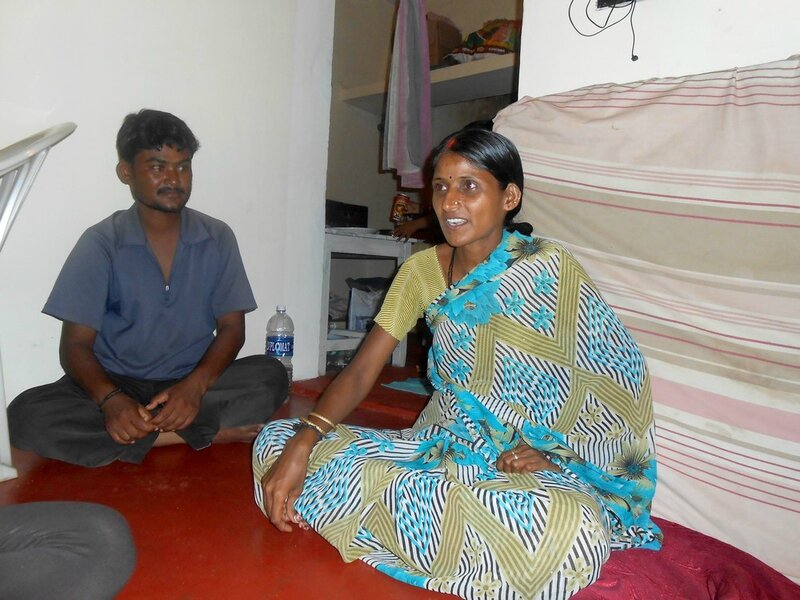 We went to Amma's ashram by train and we have seen her! Amma, is a woman a little chubby and she is all the day making hugs to millions of people ! She defends education, and mixed cultures. Amma means « Mother » in the Kerala. For some people she is considered as a godess ! After that nice hugs given by Amma, we joined back home direction a temple festival !! MAGIC !!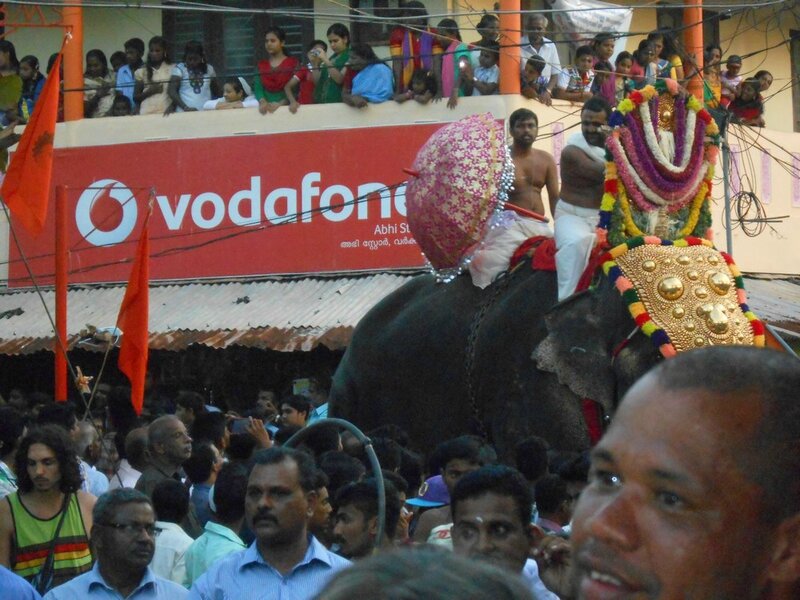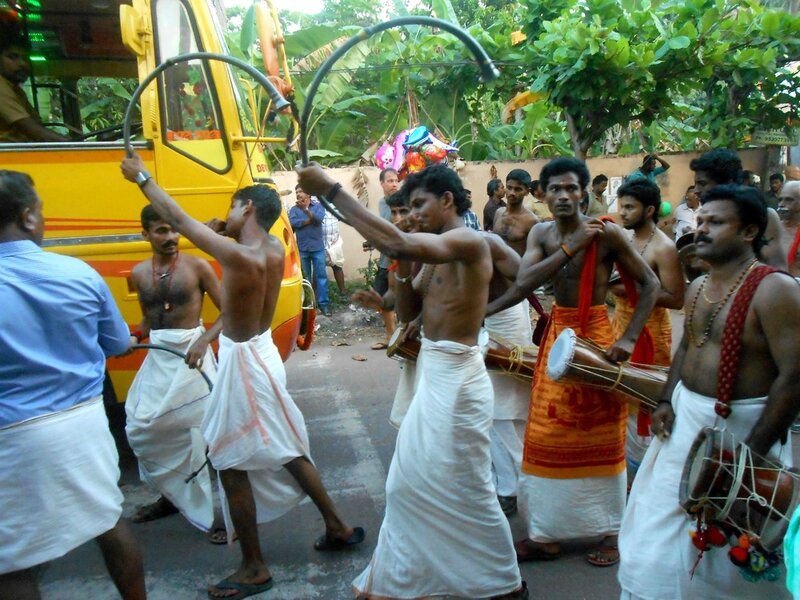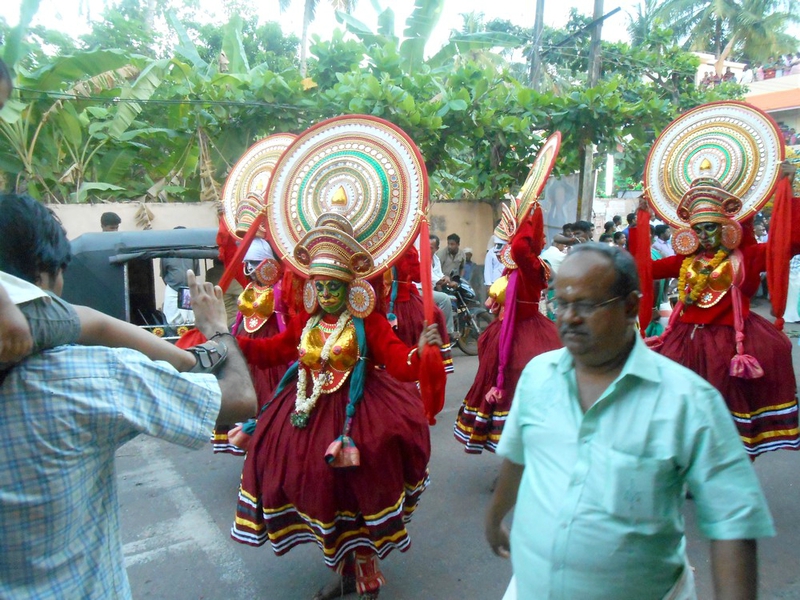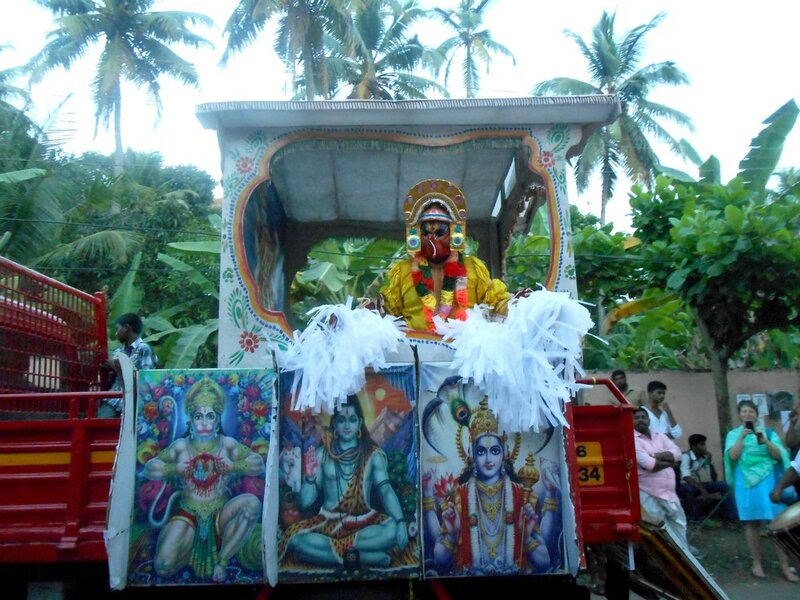 So many things to see in a temple festival it's incredible ! Musics, dances, costumes, elephants all is made to give a perfect and impressive show ! I hope you enjoyed !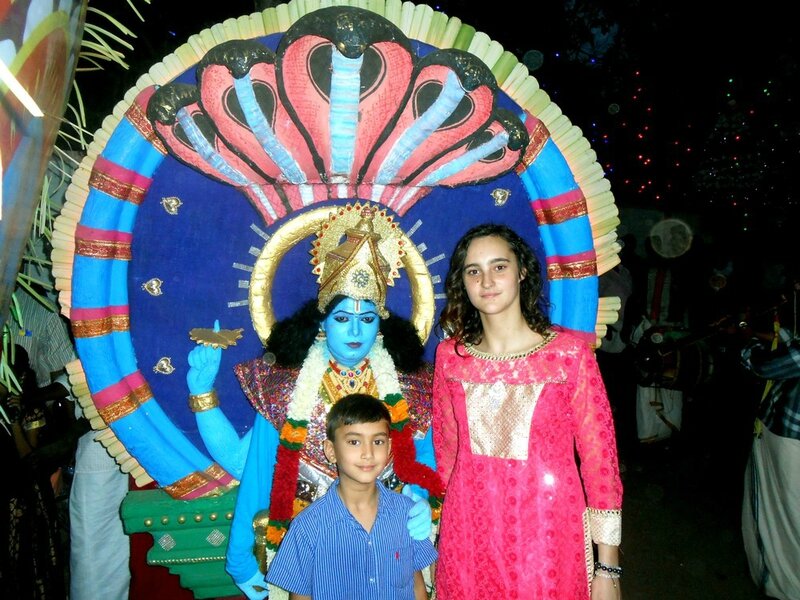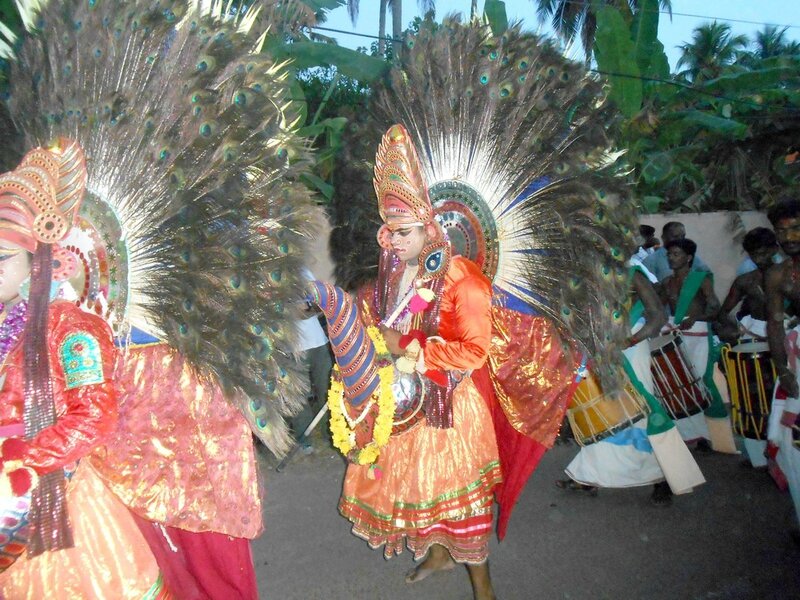 Puja, at the temple, my family is hindu, so we are going often to the temple. It's a very nice place, quiet and beautiful. The « puja » is the celebration of the god temple, at that time we can have the tika (Red, Brown, or grey point on the front).